Monday, 26 March 2012 | Admin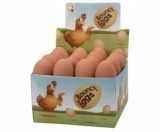 Easter is nearly here and before we know it the children will be at home for the Easter holidays. Instead of giving Easter eggs this year, why not give them something they can use time and time again? Have a look at our great range of toys, books and craft activities for children of all ages - there's bound to be something in your price range which will make the perfect Easter gift!
Friday, 10 February 2012 | Admin
Half term is now upon us and if you need something to keep the kids entertained at home or while travelling - Daisy Daisy is the place to be.
Come and look at our new craft ideas for making and doing for all ages plus loads of games and colouring and sticker books. And check out the new microscooter in store which is now suitable from 1 year (with seat) to 7 years.
Tuesday, 6 December 2011 | Admin
Fancy shopping without the children? Leave your buggy behind and join us for a glass of bubbly.
We are opening until 7.30 pm on Thursday 8th and Thursday 15th December.
So, ask a friend to babysit and join us for a stress free shopping experience.
Sunday, 18 September 2011 | Admin
Well, when I started writing this the rain was lashing down and the wind was rattling the windows - so naturally I was beginning to think that the summer was well and truly over!
Friday, 12 August 2011 | Admin
Yes, it's that time of year again and here at Daisy Daisy we have a great selection of fun toys and travel games to keep you and your children entertained whether you're travelling afar or relaxing at home.